If you want to set up an APRS icon that is not listed as a choice on your radio, you can use the following information to set any of the secondary APRS icons.
Here is a picture of the GPS-A settings for the Icom 2820H. If you don't see a symbol that you like in the "GPS-A Symbol" box, select "Other" and enter the symbol code for the APRS symbol you want in the "Other Symbol" box.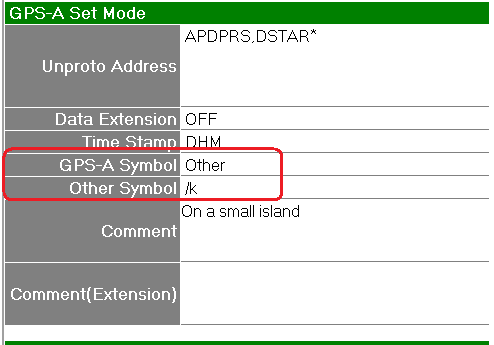 The "Other Symbols" are entered with two characters. The first character is either a forward slash"/" (Primary Symbols) or a back slash "\" (Secondary Symbols). The next character is any of the letters, numbers and symbols shown in the charts below.
In the setting shown above the following APRS symbol will be displayed:

Note:
The cross-hair symbols in the following tables represent symbols that have not yet been assigned.

(Symbol Table)




(Primary Symbols) Forward slash "/" then item from (Symbol Table)




(Secondary Symbols) Back slash "\" then item from
(Symbol Table)






Overlay Symbols



On the symbol table some of the boxes are yellow. These symbols will allow a single digit letter (A through Z) or number (0 through 9) to be displayed over the APRS symbol. To display the overlay just replace the back slash "\" with the letter or number that you want displayed. Example: 5z
Note: Some sites won't display overlays so only the icon itself will display.